Guesthouse & tables d'hôtes
GETAWAY SOUS LES PLATANES
A 19th century Mas, two centennial plane trees, the perfume of white roses, of thyme and Rosemary, a deep blue sky, the cuddle of the sun, the sound of crickets and the whispering of flowing water.
We have all the elements to make the dream come true, we're only waiting for you. The Mas was completely renovated in 2014 by ourselves. We've taken special care for the choice of the used materials and the comfort, for your well being. Decoration and utilities are often replaced. Our house offers 3 big guest rooms and a roulotte.
Our house offers 3 big guest rooms and a roulotte with air conditioner and an independent entrance, some of them have a capacity of 4 persons. .
The yard of 5ha is exceptionally pleasant in the summer; the plane trees will invite you for a well-deserved nap. Relax on one of our furnished terraces by tasting a glass of local wine. Your kids will safely appreciate the heated swimming pool, from April till octobre.
In the evening you can rest in the big living room by the fire while listening to jazz or reading a magazine. Unlimited tea and coffee in the common rooms and cold drinks available at the pool.
A GUEST HOUSE IN THE HEART OF PROVENCE
Swimming pool heated from April to October
Possibility to rent electric bikes via Sun E-bike delivered on site from 3 days rental with road books
Possibility to book an in-room massage from €79 (60 minutes)
Proposal for a wine/olive-growing circuit selected by your hosts
Wi-Fi internet connection and provision of a Chromecast to access your VOD subscriptions
Enclosed domain with covered parking and charging station
Summer kitchen equipped with a plancha, a microwave and a fridge
An afternoon snack and a drink are offered to you
Fridge with cold drinks available
Energy savings thanks to LED lamps and heat pumps that heat the water Treatment of waste
water by a filter bed of coconut fibers which purifies the water to 99%
Selective sorting and composting of household waste
The water, coming from our borehole, is made available to you after filtration and, possibly, gasification, to avoid plastic waste
Welcome and maintenance products are biodegradable
No use of herbicides or pesticides, everything is done by hand here!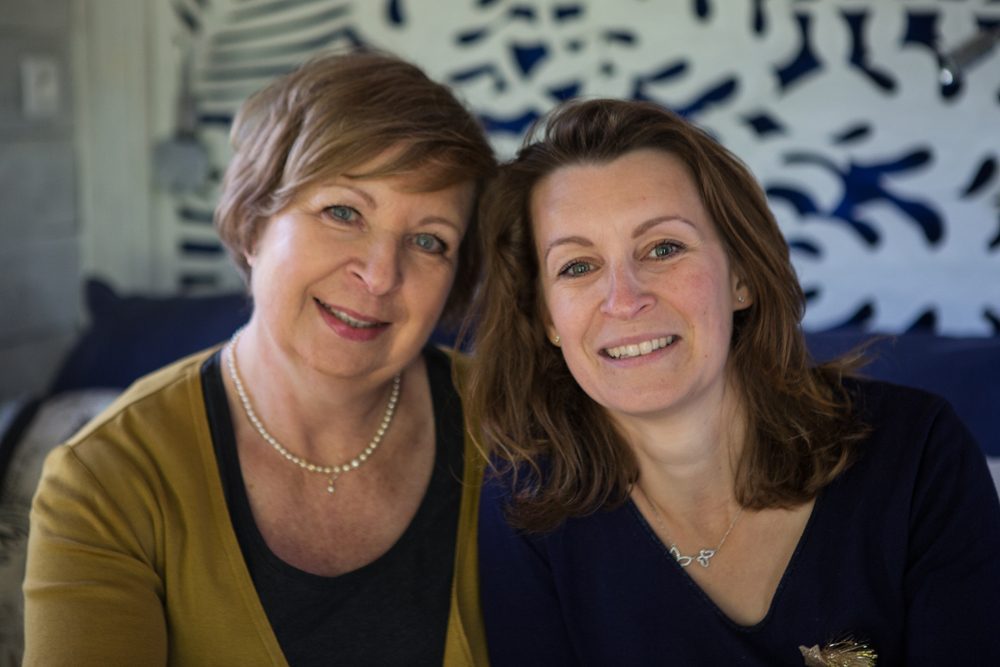 A FAMILY MATTER CAROLINE & INGRID
Caroline & Ingrid
Caroline and her mother Ingrid are delighted to welcome you for long stays or for a romantic getaway in the countryside far from the hustle and bustle. They love to advise you and share with you to make your stay a success. Basil and Jules love making new friends! Without forgetting the men, Fred & Christian, who are real handymen and without whom the restoration of this Mas would not have been possible!